Exploring the Vibrant World of Art Workshops in Chennai!
Here's an enticing preview of the art workshops offered at Chitravathi and why they hold great significance for every art enthusiast.
Why should you attend Chitravathi Art workshops in Chennai?
Enhanced Creativity: Art workshops in Chennai are more than mere learning environments; they serve as conduits for imagination. Chitravathi's workshops not only enrich your creative thinking but also broaden your perspectives on art and its myriad forms.These workshops provide a nurturing environment where individuals of all ages and skill levels can come together to explore, experiment, and freely express their creativity.
Diverse Art Forms: Art workshops At Chitravathi offer a rich variety of artistic forms. Whether you have a penchant for painting, sketching, sculpting, or any other medium, you'll find a workshop that caters to your passion. This diversity allows you to explore different art forms and discover new avenues for self-expression.
Professional Guidance: Chitravathi's art workshops are led by highly professional instructors who are experienced artists and masters of their craft. Their expertise and mentorship provide invaluable guidance to budding artists, helping them refine their techniques and uncover their unique artistic voices. The presence of these skilled instructors ensures that you receive expert feedback and support throughout your creative journey.
What sets Chitravathi's art workshop in Chennai apart and makes it truly exceptional?
Diverse Artistic Offerings: Our workshops encompass a wide spectrum of artistic disciplines, ensuring that participants can explore various forms of creative expression, from painting and drawing to sculpture and beyond.
Experienced Instructors: Chitravathi's workshops are led by seasoned artists and experts in their respective fields. This wealth of experience translates into high-quality instruction, mentorship, and guidance for participants.
Creative Sanctuary: Our workshops provide a nurturing and inspiring environment where individuals of all ages and skill levels can freely tap into their creativity, fostering artistic growth and self-expression.
Skill Enhancement: Participants have the opportunity to refine their artistic skills and techniques, gaining valuable insights and knowledge that can elevate their artistry to new heights.
Community and Collaboration: Chitravathi's workshops foster a sense of artistic community, where participants can connect, collaborate, and draw inspiration from one another, creating a vibrant and supportive network of artists.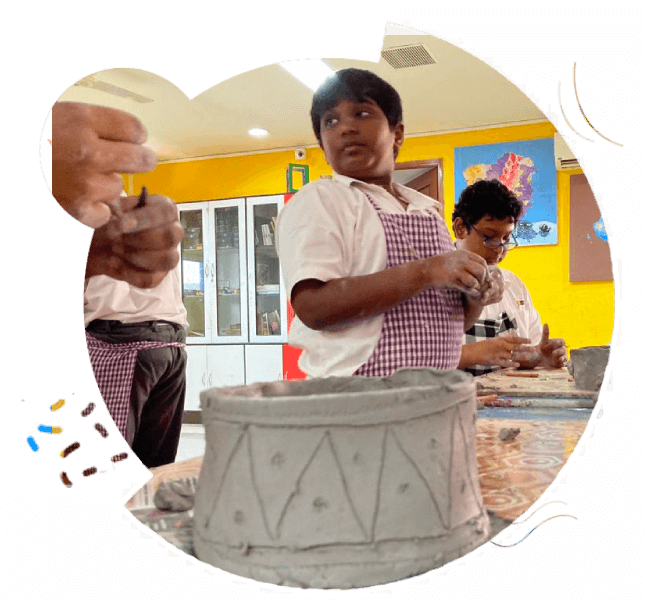 In essence, Chitravathi's workshops are a vital component of our idea to empower students with a holistic education that extends beyond conventional boundaries, fostering a generation of individuals with a keen original vision and a strong commitment to empathetic ideals.Why wait longer? We encourage you to register for one of our upcoming Art workshops in Chennai and discover an experience like no other.
Begin Your Journey To An Unlimited Future With Us